Apartments are an area of 20 to 40 square meters. It consists of rooms, kitchens, bathrooms and terraces. We have 3 double, 3 triple and 4 four apartments, which are completely sound and heat insulated, and provide peace and privacy.
Rooms are bright, spacious and equipped with new, modern furniture, air conditioning and TV.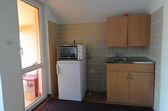 Kitchen is also fully equipped. (Sink, stove, refrigerator, hanging elements, vessels, etc.)..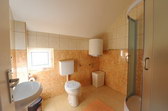 Bathrooms are spacious, with a ceramics class, toilet and shower.