The restaurant has 16 seats, fireplace and summer garden. It is a library and a computer with ADSL internet connection and all components (printer, scanner, etc..). Guests also have the DVD drive, radio and CD player, chess and many other useful trifles (dominoes, cards, hair dryer, iron and accessories, sewing).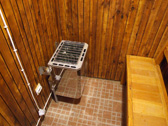 Sauna for 4 people, with the original oven Weka system is available to visitors free and unlimited, but with mandatory consultation with a physician.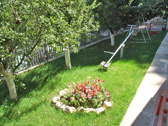 For children we have prepared a small playground with slide, swings and teeter in a safe place to play.